Proactively Reach and Retain Students Through Integrated Two-Way Texting
AI-backed, 1-to-many text messaging keeps current and prospective students informed, supported and on-track.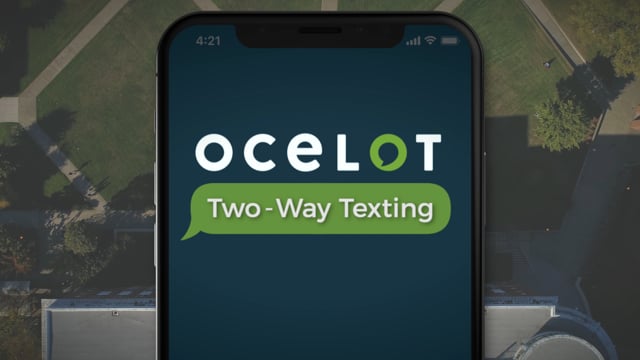 Why provide Two-Way Texting?
Pre-built and customizable campaign templates
Whether you're targeting one student or thousands, Ocelot's purpose-built content engine helps you get started in proactively texting students from a trusted number with the right information, configured to the unique language of your school.
Versatile, personalized response creation
Institutions have the option to choose between staff-led or AI-backed response options, maximizing flexibility. AI-backed responses pull from Ocelot's higher-ed specific, network-based AI library and allow staff to engage conversations to provide more context and transition students to expert assistant as needed.
Flexible integration with leading campus systems
System-agnostic design makes for easy deployment across departments while centralized knowledge base ensures each interaction is personalized and informed by a holistic view of every student. Schools can pull information from campus systems to send individualized messages to one or many students to share information that's most relevant to them, easily grouping messages by things like dorm, major, or financial aid status.
98% open rate for text messages
90% of which are read within 3 minutes
Messages that resonate.
Meaningful interactions.
Counteract declining enrollment
Reach more prospective students with targeted messages on upcoming admission and financial aid deadlines.
Provide high-risk students with personalized text reminders of important tasks or events.
Replace burdensome follow ups with strategic initiatives while ensuring information is accurate and compliant across all student services.
Texting Platform
Buyer's Guide
Everything you need to size up your texting options complete with high level considerations and a detailed checklist.
Dive into more success stories
Hear how your peers are realizing the benefits of the Ocelot's AI Communications and Student Engagement Platform, ensuring every student gets the answers they need so no one is left behind.
4 YEAR PUBLIC Reversing the Disappearing Act to Drive Enrollment and Retention CSU Global was the first fully-accredited, 100% online university. Being part of the …
COMMUNITY COLLEGE Helping Students Pay Balances and Get Financial Aid Bakersfield College, one of the nation's oldest continually operating community colleges, serves students in the …
4 YEAR PUBLIC Unifying a Decentralized Campus with AI Technology Empire State University spans more than a dozen satellite locations across the state of New …