Make and Maintain Personalized Connections by Blending AI and Human Intelligence
Integrated live chat brings a versatile, comprehensive approach to AI communications across campus, keeping students on the path to success.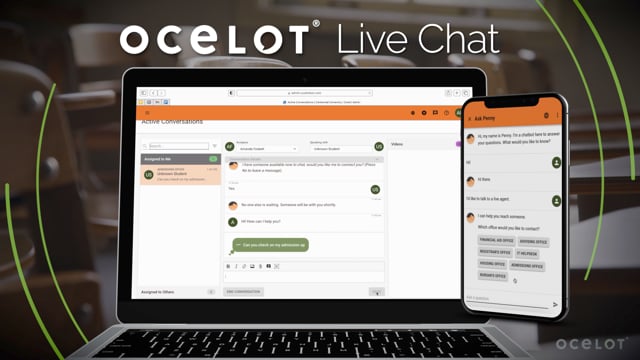 AI-backed recommendations and routing
Ocelot's platform pulls insights from its broad higher-ed specific knowledge base and institutions' existing customized knowledge bases, to feed staff suggested chat responses and relevant resources in real-time, while enabling automatic routing and easy transfer to departmental experts best positioned to handle each student's request.
Seamless integration with Ocelot chatbot
Students can select to proactively move from chatbot-led interactions to live chat with campus staff, self-authenticating to receive more personalized answers. Staff can also leverage live chat to proactively intervene in chatbot-led conversations to provide more context and personalized help to students as required.
File sharing and video chat
Staff and students can share documents directly within the chat while video capabilities and screen-sharing mode are available via integrations – optimizing the student experience while fostering deeper, more impactful student connections in the digital-first age.
"A much-needed platform for students who urgently need answers."
Jennifer Achan, Director of Financial Aid, Bakersfield College
Empower staff.
Deepen 1:1 student connection.
Keep more students engaged
Maximize adoption and impact of chatbot channel by allowing staff engagement when needed to answer students' complex questions and execute personalized follow up.
Better support at-risk students
Give personalized, 1:1 attention to students in need of high-touch guidance to increase retention and student success.
Increase communication effectiveness and accuracy
Empower staff to best respond to or route student inquiries with real-time, AI-backed resources and recommendations that are compliant and consistent across departments.
Blending High Tech and High Touch
Hear from hundreds of higher education leaders on the challenges and opportunities for better student engagement.
Dive into more success stories
Hear how your peers are realizing the benefits of the Ocelot's AI Communications and Student Engagement Platform, ensuring every student gets the answers they need so no one is left behind.
4 YEAR PUBLIC Reversing the Disappearing Act to Drive Enrollment and Retention CSU Global was the first fully-accredited, 100% online university. Being part of the …
COMMUNITY COLLEGE Helping Students Pay Balances and Get Financial Aid Bakersfield College, one of the nation's oldest continually operating community colleges, serves students in the …
4 YEAR PUBLIC Unifying a Decentralized Campus with AI Technology Empire State University spans more than a dozen satellite locations across the state of New …